Alkis Pierrakos, Dans la Rue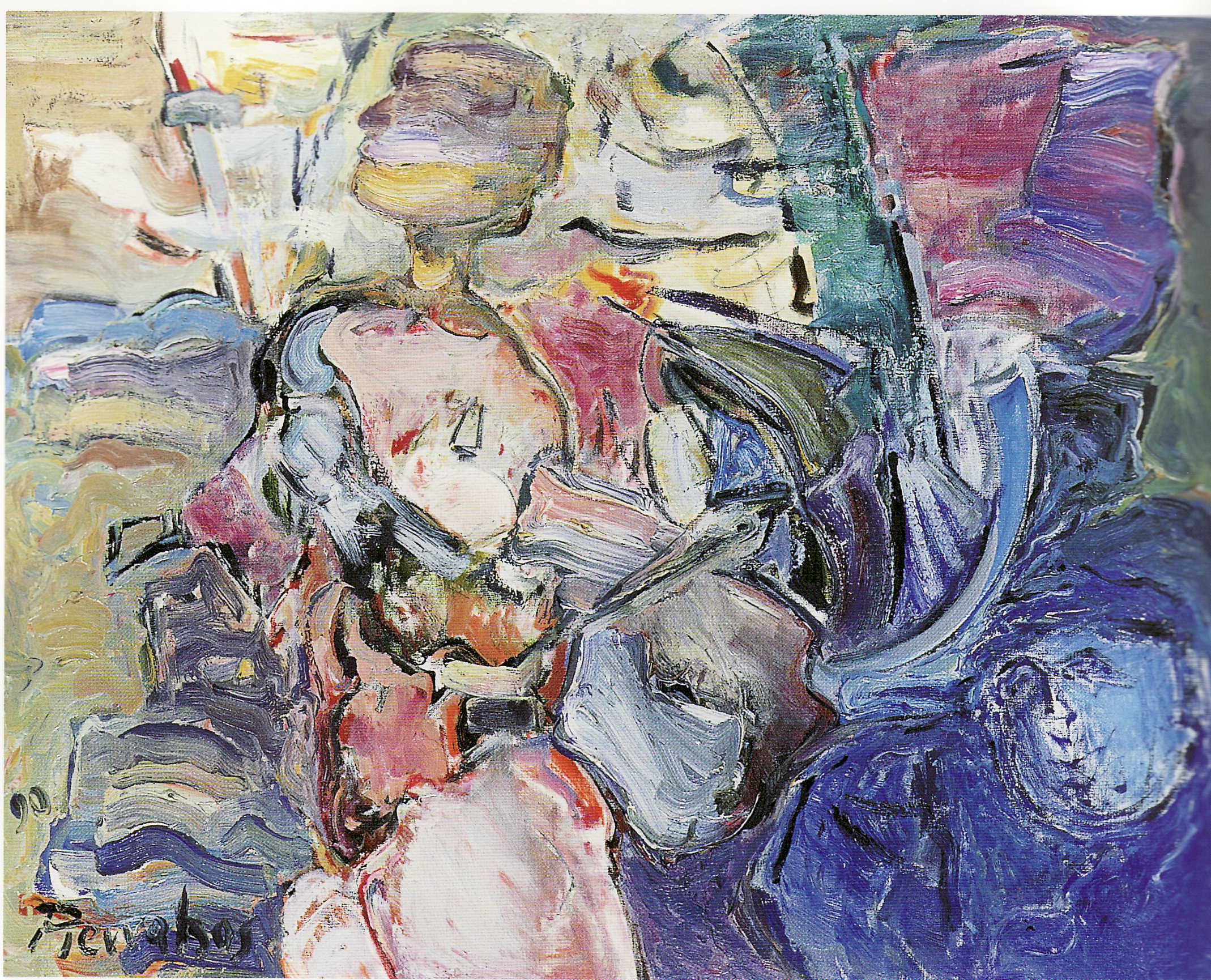 Dans la Rue by Alkis Pierrakos is an important sample of modern-Greek Expressionism. The painter lived in Paris, where he came into contact with prominent representatives of the movement. One of his favourite themes are nudes. His works have bold colours, and artfully combine representation and abstraction.
Dynamic and abstract forms
The painting depicts a naked female figure on the left. This expressionist figure is central to the composition. It is drawn with:
Strong outlines.
Bold colours.
Distortions and dynamic, curved volumes.
To the right there is a single-colour male figure, more abstract, much like the other elements of the painting.
Restriction of sketch and freedom of colour
Colour is the main feature of the composition. However, the sketch is an equally essential element, as seen on a closer look.
For Pierrakos, sketching was not just a necessary exercise, but a main medium for capturing his subject. He then used it to accomplish the result he envisioned.
In this sense, the "first line" is extremely important. Colours are then added to it, as are the other forms and any element that completes the painting.
His life in a nutshell
Alkis Pierrakos (1920-2017) was born in Thessaloniki.
Between 1948-1952 he studied Painting at Gewerbeschule in Basel, Switzerland. He continued his studies in London, at the Slade School of Fine Art and the Central School of Fine Art and Crafts.
In 1954 he moved to Paris, although he frequently exhibited his work in Greece as well.
After 1980 he spent much of his time in Oxylithos, Evia, where he was buried after his death in Nafpaktos.
Artistic influences
During his stay in London, Pierrakos studied under the famous expressionist painter Oskar Kokoschka.
His work also reflects the influences from German Expressionism, Wassily Kandinsky's aquarelles and the abstract trends of the 1950s.
Favourite themes
Pierrakos' works echo stimuli and experiences from the places where he lived: Central Europe and the Mediterranean. Landscapes, buildings and people are all turned into images of emotional tension.
The artist abandoned representational painting as early as the late 50s. However, he continued to draw his subjects from reality, a game of balance between representation and abstraction.
The voluptuous female nude dominates his paintings, free from any effort for beautification.
Artistic style
In works with strong expressionist elements, Pierrakos shows an unparalleled ability to showcase colour. Colour remains the main, dominant element in his art.
After 1970 his painting shifted towards abstract expressionism. Pierrakos emphasised large surfaces and stark contrasts. His paintings are marked by dynamic elements:
Explosive colours spreading over large parts of the painting surface.
Violent designs.
The vigorous and expanding character of space is a unique feature of his work.
A recognised artist
Pierrakos held solo exhibitions in Greece and abroad, and also participated in group exhibitions.
In 1995 the Association pour la Promotion de l' Oeuvre d' A. Pierrakos was founded in Paris, for the purpose of promoting Pierrakos' work.
The painting Dans la Rue by Alkis Pierrakos is referenced in the following Alpha Bank publications:
The work Dans la Rue by Alkis Pierrakos hangs at the Aigaleo branch, 275 Iera Odos. It can be accessed during the branch days and hours of operation.
Research visits can be organised upon request.
Contact us to book your visit.