Michalis Arfaras, Elefant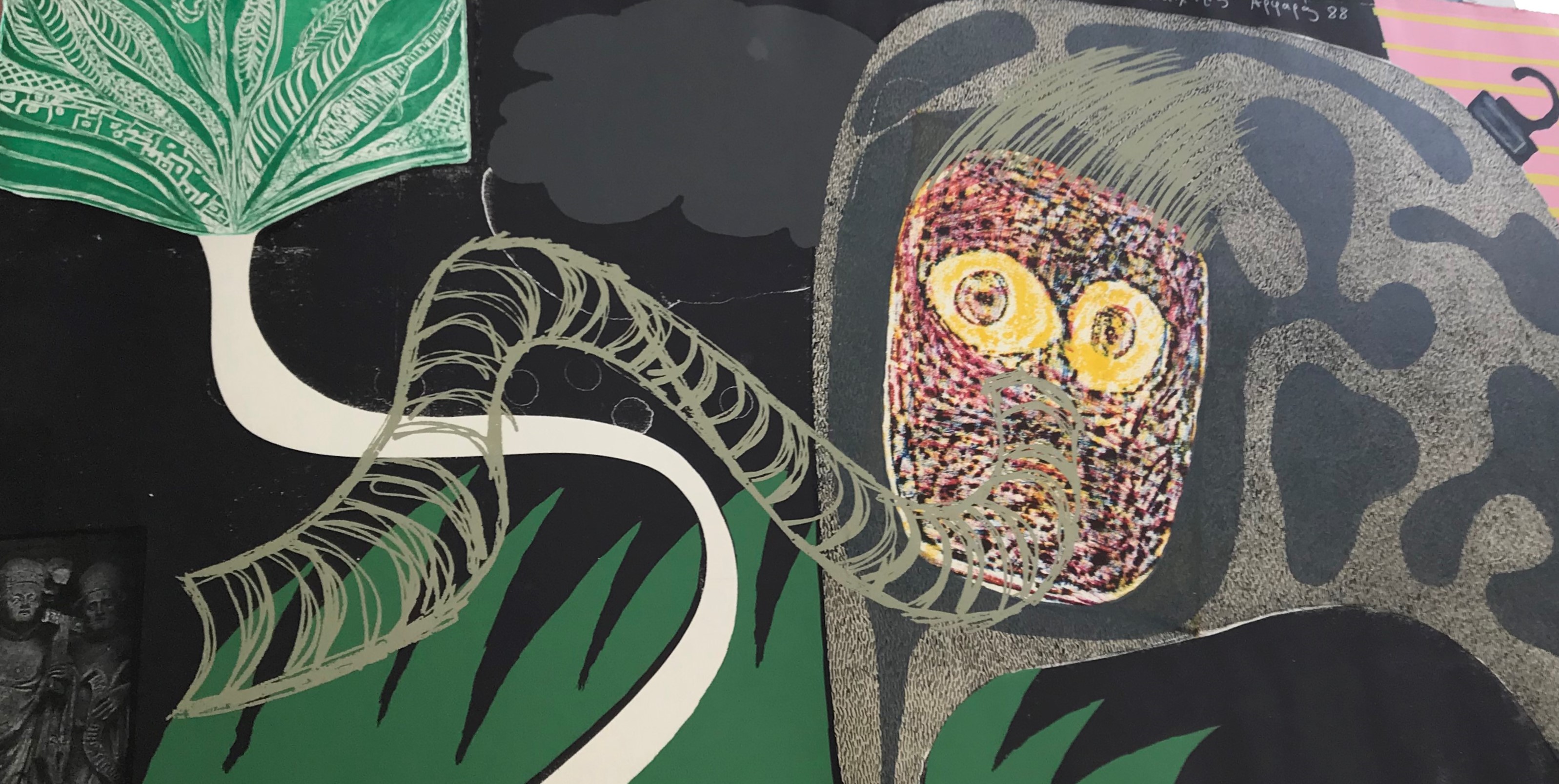 Elefant forms part of a category of works where Michalis Arfaras represents animals in a unique manner. It is a mixed technique print, combining relief and intaglio printing. Variety in technical media, experimentation and continuous trials in engraving techniques are basic elements of Arfaras' works. He also has a close relationship with experimental cinema.
Animal representations
The piece with the German title Elefant was made by Michalis Arfaras during the years that the engraver spent in Germany (1988).
It is part of a wider category of works where the artist represents animals that are transformed in an original manner, through his own, unique view.
Elefant, in terms of both its theme and style, could be part of an illustrated children's book or an animated movie.
A unique elephant
The body of the elephant is depicted in a very peculiar shape. Its head brings to mind a mask, an element which emphasises the two-dimensional depiction. The representation of its tail is very whimsical. The artist uses a relief print from a hair slider.
The animal's trunk, with its curved lines, joins the curved shape of the tree trunk. These elements add motion to the piece.
Ancient sculptures can be seen at the bottom left corner. Printing with metal photographic clichés creates a totally realistic depiction. This comes in contrast with the spirit of the composition, without, however, disrupting it. It becomes the starting point for the audience to give their own meaning and interpretation to the piece.
Engraving techniques
Various techniques were uniquely combined to create this print:
Lithography.
Aquatint.
Screen printing, complemented by relief printing.
These techniques are very telling of the artist's idiosyncrasy. Their harmonious combination adds colour, variety and appeal to the composition.
His life in a nutshell
Michalis Arfaras was born in Athens in 1954. He studied Drawing and Painting at the Athens School of Fine Arts (1972-1974). He continued his studies at the Braunschweig University of Art (HBK) in Germany (1975-1980). There he specialised in engraving, book art and animated films.
He was a professor at the University of Hildesheim near Hanover (1988-2006). In 2006 he was appointed professor of Engraving at the Athens School of Fine Arts.
He has authored books and edited art publications.
Artistic style
Arfaras was one of the first modern artists that did not hesitate to work almost exclusively in engraving. He also focused on engraving from his position as a professor at the Athens School of Fine Arts.
Right from the start, Arfaras developed a highly experimental and genuinely personal character. His works are typified by diverse, whimsical applications, as well as a combination of multiple engraving and printing techniques.
During the 1990s, he presented some peculiar, grotesque assemblages. He created them with the help of an eclectic array of objects, which co-exist in unexpected gatherings and bring to mind human-like idols/totems.
Experimentations and variations
Experimentation and continuous trials in engraving techniques form an integral part of his work. Another fundamental element of Arfaras' art is the variety of the technical media that he uses.
His art includes, either as standalone pieces or as combinations:
Relief printing, such as woodcut and linoleum cut.
Intaglio printing, such as copper engraving and aquatint.
Planographic printing, such as lithography.
Relationship with experimental cinema
Arfaras developed a close relationship with experimental cinema.
He started working on experimental films in 1987 from his studio in Hanover. His cinematography interacts with his visual art works. His work encompasses different engraving techniques, along with painting, drawing, collages and other mixed media.
A recognised artist
Since 1979 Arfaras has exhibited his works in solo exhibitions, held at art galleries and museums in Greece and Europe. He has participated in numerous international art Biennales and experimental film festivals. His works are featured in many international collections.
An important asset
Elefant by Michalis Arfaras was donated by the artist himself to the Alpha Bank Art Collection in 2018.
Bibliographical references
Arfaras' work is referenced in the Alpha Bank Mazi magazine (issue 73, February 2021).
It is also featured in the artist's book Engraving and Print Art (in Greek).
Elefant by Michalis Arfaras hangs at the Alpha Bank branch in Kifissia. It can be accessed during the branch days and hours of operation.
Research visits can be organised upon request.
Contact us to book your visit.