Nikolaos Ventouras, At the Steps of Agios Spyridon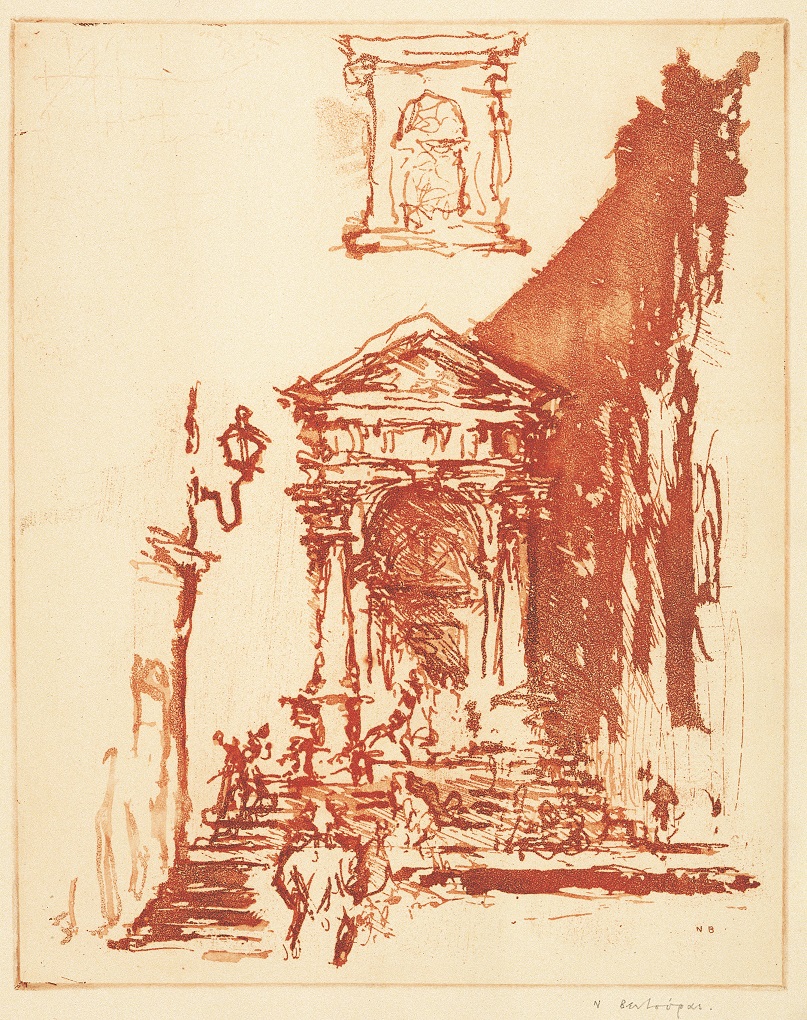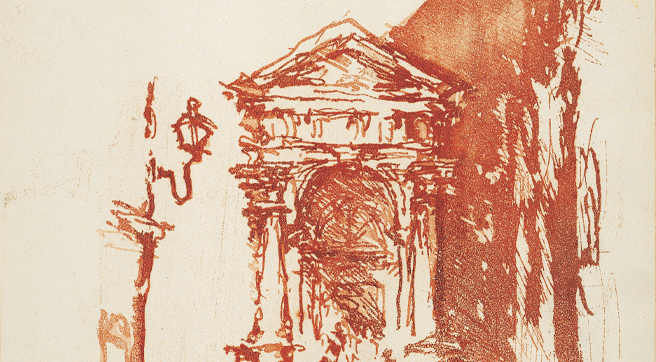 The aquatint At the Steps of Agios Spyridon by Nikolaos Ventouras is a personal, familiar picture in red ink. It summarises every crucial element in the engraver's art. His works are divided into 2 large thematic cycles: pictures of Corfu and ships. Ventouras' evolution into engraving was mainly personal, as he was self-taught.
A personal, familiar picture
The print At the Steps of Agios Spyridon of Corfu summarises every crucial element in Nikolaos Ventouras' art. It is a personal, familiar picture, rendered through experimentation and abstract solutions.
The entrance to the church is the element of the piece that has the most detail. The curves, barely seen behind the multitude of lines, create a sense of perspective.
The human forms are essentially marked on the steps and become the most interesting element of the composition.
The entire aquatint is created with red ink, a fact that makes it original and unique.
A restless artist
Ventouras was not happy with the end result. He was mostly troubled by the exclusive use of red colour. This information can be found in his hand-written notes.
In fact, there are variations of the print At the Steps of Agios Spyridon showing different experimentations. Some of the elements are rendered differently, including showing the steps at the foreground and having a human figure in black ink.
His life in a nutshell
Nikolaos Ventouras (1899-1990) was born in Corfu. He studied Chemistry in Germany. He also studied Painting under Angelos Giallinas and took lithography classes in Corfu.
He was self-taught in engraving and is considered the 3rd of the group of engravers from Corfu, along with Markos Zavitzianos and Lykourgos Kogevinas.
Favourite themes
Nikolaos Ventouras mainly depicted landscapes. His works are divided into 2 large thematic cycles: pictures of Corfu and ships.
The human presence in his prints is brief and discreet, an element which many relate to his own discreet career.
His first works were mainly influenced by Realism and Impressionism. Gradually, he incorporated elements from Surrealism, Cubism and Expressionism.
Artistic style
Ventouras presented the first abstract renderings as early as 1939, which was quite earlier than the Greek scene. However, he remained a representational artist, never moving too far from this realistic starting point.
The combinations of chalcography techniques he used in his prints were particularly complex. In the mid-50s he started using colour in his chalcography. Little by little, this colour broke free and became independent of the outlines. This led the engraver to renderings with bold expressionist elements.
Gradually, Ventouras turned to ground-breaking techniques and solutions. He created images that, according to him, resemble fleeting memories. They are more suggestive than precise.
An artist and a chemist
Ventouras created a series of impeccable lithographs. His dual capacity as a chemist and an artist helped him to fully express his artistic vision. Through his studies in Chemistry, he discovered the means to experiment with engraving materials.
A recognised artist
Ventouras participated in solo, group and international exhibitions in Greece and abroad: the São Paulo Biennale (1955, 1957), the Alexandria Biennale (1957) and the Venice Biennale (1964).
A year after this death, in 1991, a retrospective exhibition was held in Athens (Hyacinth Art Gallery).
The print At the Steps of Agios Spyridon by Nikolaos Ventouras is referenced in the Alpha Bank publications:
The Alpha Bank Art Collection is not open to the public.
Research visits to the Art Collection can be organised upon request.
Contact us to book your visit.