13.01.2023
Art content for children of Alpha Bank Group employees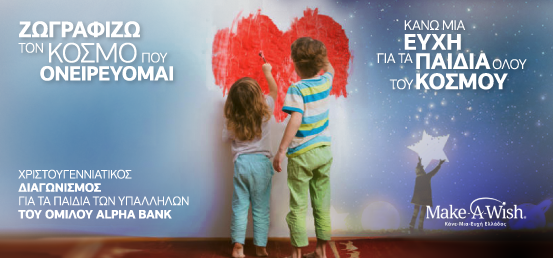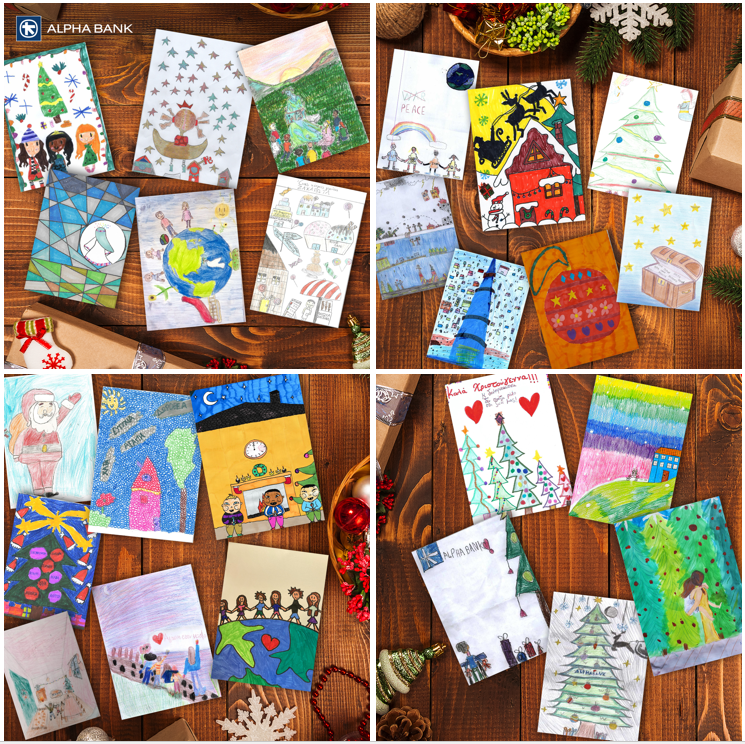 Alpha Bank hosted a creative art content on "Painting the world I dream of" and "Making a wish for all the children in the world". The aim was to create the Bank's greeting card for 2023.
All the children of Group employees aged 5-15 let their imagination run wild, painted the world they dream of and wrote wishes for all the children in the world. Through the children's artwork, we travelled to faraway worlds.
There were plenty of participations, drawings and wishes to go around. 397 of our colleagues' children from every corner of Greece dreamt of a better world and shared their loving wishes for all the children of this world.
5 winners emerged from the contest. The artwork created by the first winner adorned the corporate greeting card for the new year.
1st place – Maria Lagonika, 14 years old: "I wish all the children in the world have a year filled with health and laughter!"
2nd place – Panagiota Asimakopoulou, 5.5 years old: "This Christmas, the only fighting we need is a snowball fight!!!"
3rd place – Alexandros Nikitopoulos, 9 years old: "Let us all look at the stars and dream of a better world!!!"
4th place – Kleopatra Michalaki, 13 years old: "May all the children in the world unite for a peaceful planet in the future."
5th place – Melina Ioannidi, 12 years old: "My wish is for all the children in the world to feel loved and protected, and shed their fears when they look at the sky."
Meanwhile, as we have been long supporting actions of a sensitive nature, we continued our social initiatives during the festive season, making the wishes of children facing grave illness come true, through the Make a Wish Foundation:
Stefanos, 14 years old – He wished to receive a special wheelchair.
Sofia, 6 years old – She wished to get her own playground.
Sintorela, 6 years old – She wished to get a new bedroom.
We thank all the children for their participation, their beautiful artwork and their heartfelt wishes.