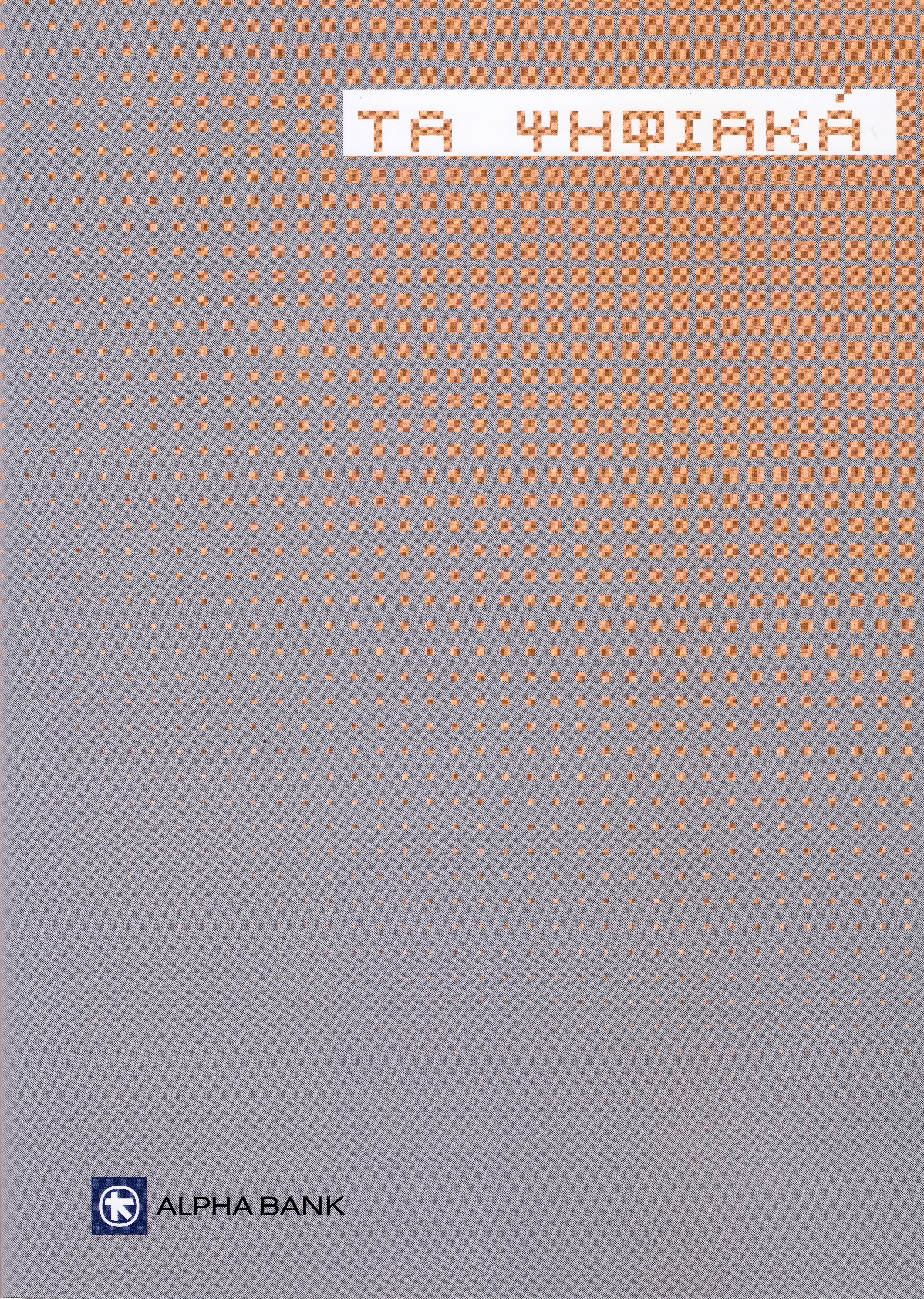 The publication Digitals includes pieces by contemporary Greek artists who work with digital prints.
Publication details
Edited by: Irene Orati, Charalambos Dermatis, Despoina Tsourgianni, Georgia Mazi
Language: Bilingual (Greek/English) (out of print)
Year published: 2012
What the publication includes
The catalogue Digitals features 12 works by contemporary Greek artists who experiment exclusively with new media and mainly digital prints.
The exhibition at the central building
A same-titled exhibition was hosted at the exhibition hall of the Alpha Bank central building between 24 January and 30 June 2012. The exhibition "Digitals" was held to mark the acquisition of a sequence of 12 pieces by modern artists in 2011.
The works are reproduced on a computer and printed on a large printer. The prints are then subject to various interventions that modify the end result.
The aim of the exhibition was to familiarise the audience with and help them approach modern printmaking techniques, and their extremely special and interesting perspective.
Participation in the Athens Print Fest
Alpha Bank participated in the Athens Print Fest/Second Edition–Plan B (2012) with the exhibition "Digitals".
On the occasion of the festival, the artists who participated in the "Digitals" were called to intervene one more time on their works manually. Their aim was to differentiate the purpose of the exhibition and enhance its contents.
The following artists participated in the exhibition: Elli Griva, Georgia Damopoulou, Charalambos Dermatis, Katerina Diakomi, Natalia Kerkyra, Eva Marathaki, Pantelis Xirocheimonas, Lenia Economou, Konstantinos Papamichalopoulos, Miltiadis Petalas, Amalia Stavroulaki and George Tserionis.
The exhibition was curated by Despoina Tsourgianni and Georgia Mazi from the Alpha Bank Art Collection department.
Edited by: Irene Orati, Charalambos Dermatis, Despoina Tsourgianni, Georgia Mazi
Publisher: Alpha Bank
Place and time: Athens, 2012
Dimensions: 29 x 21 cm
Pages: 39
Browse other Publications