Replica of silver tetradrachm of Lysimachus, Thrace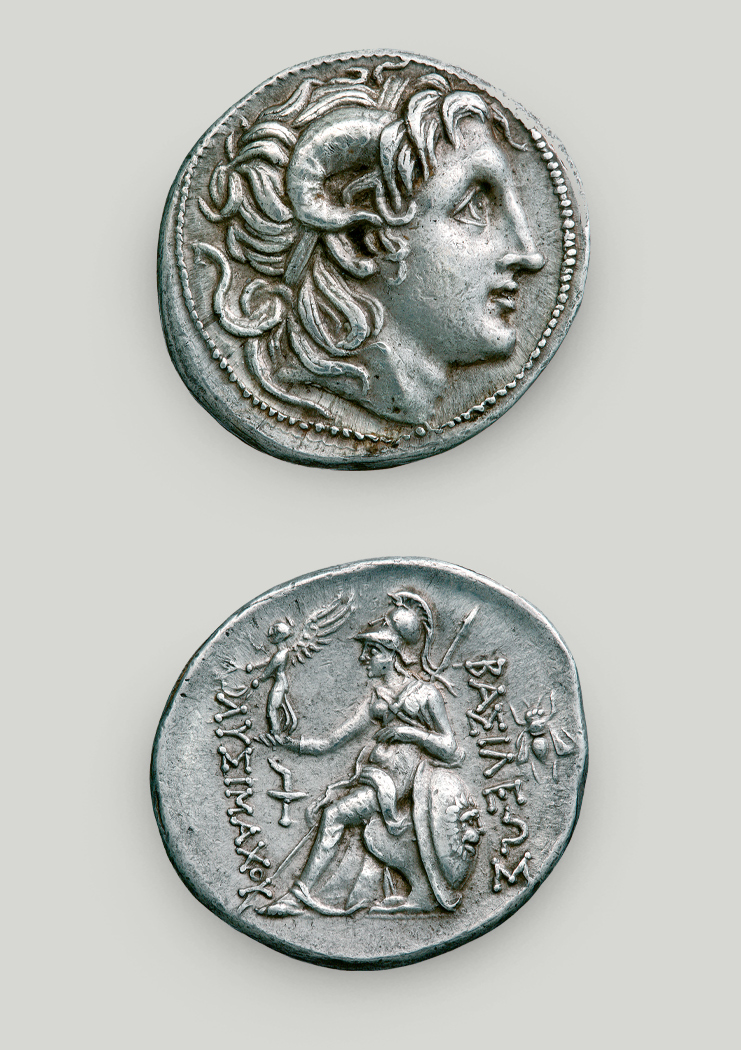 On the silver tetradrachm of Lysimachus, Alexander the Great is depicted deified, donning the ram horns of the Egyptian god Amun. It is one of the most impressive depictions of Alexander the Great. The tetradrachms of Thracian king Lysimachus were issued as of 297 BCE.
Issuing authority:

Lysimachus

Place:

Thrace

Nominal value:

Tetradrachm

Dating:

288/7-282/1 BCE

Metal:

Silver

Diameter:

30 mm

Weight:

13.99 g

Observe:

Head of Alexander the Great with the ram horns of Amun, in profile facing right, within a circular dotted border.

Reverse:

The goddess Athena enthroned. Her left elbow rests on a shield bearing a lion head as an episema (identifying design). Her right hand is extended forward, holding a winged Nike (Victory) that crowns Lysimachus' name in the legend. There is a torch under the goddess' right arm and a spear behind her. A bee is visible at the right-hand side of the field. The legend reads ΛΥΣΙΜΑΧΟΥ ΒΑΣΙΛΕΩΣ (of king Lysimachus).