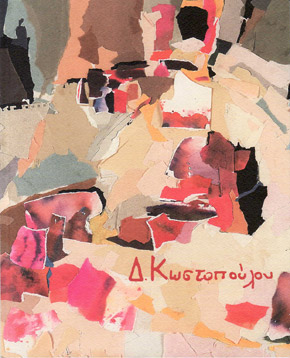 The publication Daphne Costopoulos presents the variety in Daphne Costopoulos' artistic output. It accompanied the same-titled exhibition held in 2010 at the exhibition hall of the Alpha Bank central building.
Publication details
Edited by: Athina Zografou
Language: Greek
Year published: 2010
What the publication includes
The publication Daphne Costopoulos is dedicated to the painter Daphne Costopoulos (1937-2000). It includes 10 sections. Each section corresponds to a period in her artistic output. As such, the publication showcases the diversity in Costopoulos' work.
The catalogue of a remarkable exhibition
The publication accompanied the exhibition "Daphne Costopoulos", hosted at the exhibition hall of the Alpha Bank central building from 23.06.2010 to 30.09.2010.
The exhibition was organised as a concise panorama. It showcased pieces that belong to the Alpha Bank Collection and the J.F. Costopoulos Foundation.
The aim of the exhibition was to:
Present the multiple facets of Costopoulos' creations.
Pay tribute to one of the most talented and modest artists of her generation.
Diverse creations
Daphne Costopoulos opted for inventive solutions and discovered various paths in her artistic journey. Her goal was to always arrive at a different visual result. This element is very obvious in the diverse creative units of her artistic output from 1958 up to the early 1990s.
Edited by: Athina Zografou
Publisher: Alpha Bank
Place and time: Athens, 2010
Dimensions: 29 x 21 cm
Pages: 54
Cover type: Paperback
Browse other Publications