25.01.2018
Series of lectures on "Money and..."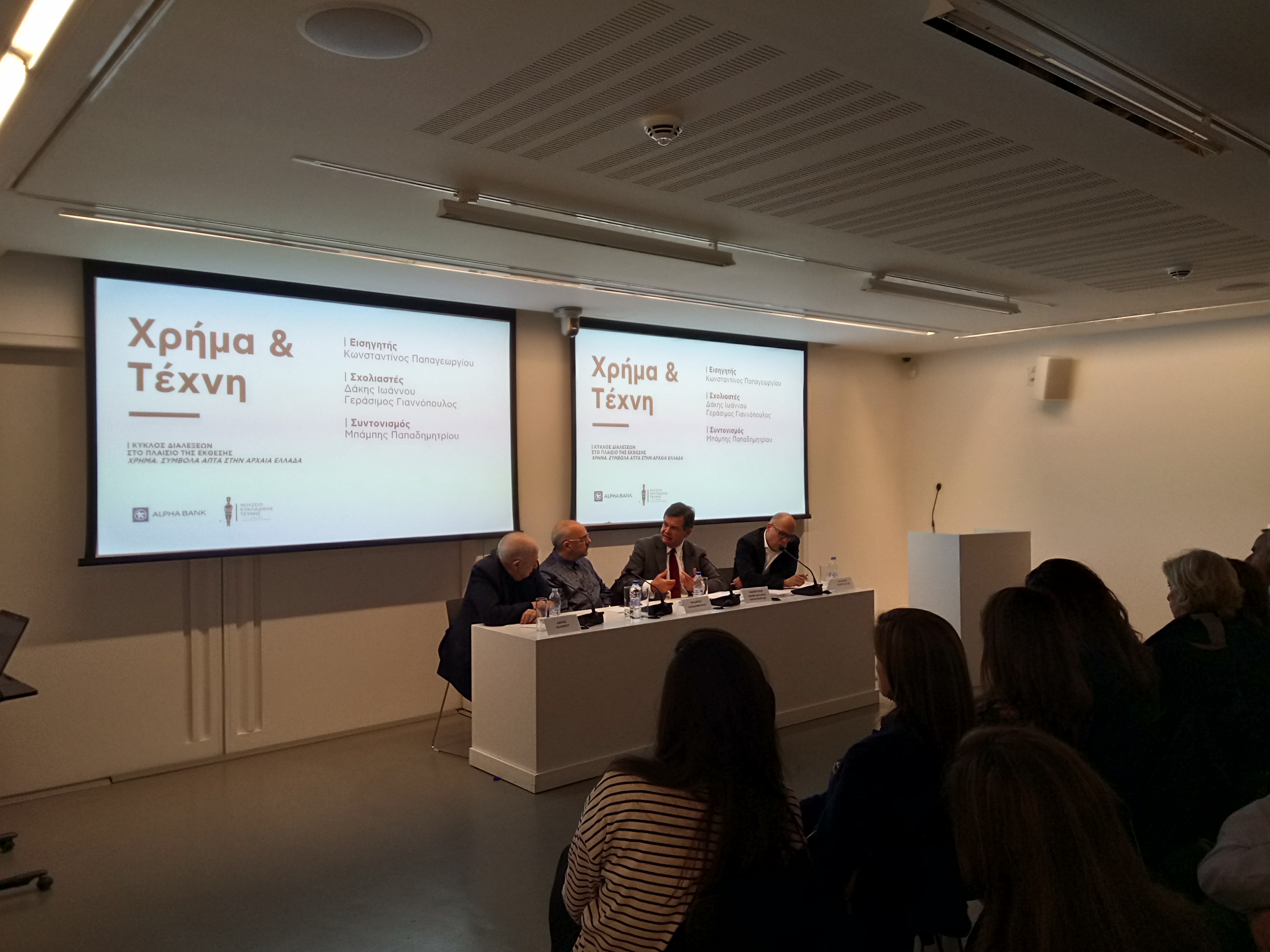 On the sidelines of the exhibition "Money. Tangible Symbols in Ancient Greece," co-hosted by the Alpha Bank Numismatic Collection and the Museum of Cycladic Art, a series of lectures was held at the Museum auditorium, with 3 very interesting lectures and presentations, moderated by journalist Babis Papadimitriou.
Does art need money or is it that money alters the meaning of art, affecting its autonomy? Some fundamental questions on the challenges and necessity of this relationship were presented, through examples mostly drawn from the history of art.
Speaker: Konstantinos Papageorgiou, Professor of Philosophy of Law, School of Law, National and Kapodistrian University of Athens.
Panellists: Dakis Ioannou and Gerasimos Yannopoulos, partner, Zepos & Yannopoulos – Member of the Board of Directors of the Benaki Museum.
From the first coins in antiquity to the bitcoin, money has always been a measure of value, a means of transaction and savings, continuously affecting the life of societies. This was also true in the cases when its role in the economy was secondary, such as in rural societies that idealised self-sufficiency, something that was true for the largest part of history after the Neolithic Age.
Speaker: Kostas Kostis, Professor, National and Kapodistrian University of Athens – Advisor to the Management of Alpha Bank.
Panellists: Apostolos Doxiadis, writer, and Andreas Kakridis, scientific officer of the Bank of Greece Historical Archives.
Money is an element of our daily life. A society without money belongs in the fringes of fantasy. Money constitutes an ancient institutional innovation of many civilisations: it liberates trade; multiplies the range of a market; supports and promotes the development of trust. It becomes a general symbol of value. Individuals and companies use it in transactions or savings. Banks manage and disperse it. The state guarantees it and uses it in its transactions; at times changing its value. Social ethics and rules are formed according to the current perception for its "fair" usage. Professional occupations are formed depending on its most modern uses. The antiquity of the institution is certified by its historical diversity. From ancient coins (commodity money) up to representational money (banknotes, checks, plastic money) the forms of currency continuously evolve.
Speaker: Stavros Thomadakis, Professor Emeritus of Finance, National and Kapodistrian University of Athens – Chair, International Ethics Standards Board for Accountants.
Panellists: Miranda Xafa, economist, researcher for the Centre for international Governance Innovation (CIGI), and Kostas Loizos, delegated teacher at the National and Kapodistrian University of Athens (Department of Economics).